Almaverde Bio
We favour areas suitable for production
Almaverde Bio is now recognised as Italy's main organic food brand, thanks to its constant focus on the quality of its products and its meticulously chosen producers. Our main goal is to bring certified products to the table of consumers, for a healthy and informed diet.  Because Almaverde Bio means … loving yourself! 
COMMITMENT
Behind an organic product is the promise of a safe, healthy and legally guaranteed item, made using eco-friendly methods. What's more, younger consumers are actually the ones who recognise our superior quality.
We are committed to keeping this promise. We are producers. The Almaverde Bio brand brings together producers who represent Italy's famous agriculture tradition. Thanks to our ability to control the entire production chain, as producers we have always believed and are absolutely convinced that we are equipped for this task.
PASSION
Organic produce is above all a passion. The passion of those who contribute to all the production stages, from cultivation, farming, harvesting and storage, all the way to packaging and distribution. A passion that drives thousands of farmers and breeders (especially of the younger generation) to produce with greater respect for the environment, paying careful attention to the well-being of the animals, and all the while trying to strike the difficult balance between production and sustainability. It takes passion and conviction to produce less, but better. Choosing to eat organic, therefore, does not just affect everyday well-being but is also a way of showing appreciation for this passion.
RESPECT
Rather than being "against" anything, we have always been respectfully "for". We believe in choosing organic as a choice. Viable, practical, everyday, but always a choice. It is on this concept that we base our communication, and we believe that our conscious encouragement to "go organic", which we sustained for years, has   contributed to the spread of a more sustainable food culture. Today, our "love yourself" slogan is equally an encouragement; it continues to present a choice. A healthy choice:  for ourselves, those around us and for the environment …
SHARING
Our ambition is that the values to which we aspire are shared by an increasing number of consumers.
In other words: the belief that growth and development must be guided by principles of equity and sustainability; the belief that organic farming is a model to be developed with professionalism and commitment; the belief that our food choices have a major impact on our well-being in the broader sense of balance between lifestyle, taste, energy, pleasure and socialising.
GOING FURTHER
Whilst much has been done in the organic sector to improve the products on offer, there is still much to do.
Today, with the constant increase in the number of consumers and the establishment of new styles of consumption, the organic product must not only be safe and certified, but also consistent as far as quality is concerned. We believe that we should go beyond simply turning a standard product into an organic one.
Almaverde Bio's Values
We believe in sustainable development and progress.
We believe that organic farming does not mean a utopian and anachronistic return to the origins of cultivation and farming. Rather, it means new professionalism and a modern commitment to the improvement of systems and innovative production techniques, in order to make healthy and quality products while respecting the environment.
We believe that organic products should be available to an increasing number of consumers, wherever they are and wherever they shop, regardless of the product they are looking for. We believe that all food can and should be produced in harmony with nature.
We believe that the organic values (certification, safety, environmental protection) are inextricably linked to a proper and high-quality diet. Here's what is important to us.
The Almaverde Bio Philosophy
Organic farming
The Almaverde Bio philosophy is based on ethics and respect for nature, both for those who produce and those who consume the product. We are a consortium company that brings together Italian companies who have a strong connection with the local area, a direct relationship with the production stage and proven expertise in their product sector and in the organic sector.
We have combined our experience and resources to make Almaverde Bio a friendly brand, ensuring product quality, information and service. By choosing Almaverde Bio products, you are bringing healthy, quality and environmentally-friendly products to your table.
Crop farming
• Respect for the natural life cycles of the earth
• No use of pesticides, fertilisers or synthetic chemical herbicides
• Use of organic and biodegradable substances for fertilisation
• Use of crop rotation and light interventions to promote soil fertility
Products
• Only natural preservatives permitted
• Total traceability of each product or ingredient 
• Certification by the inspection bodies recognised by the Italian Ministry of Agriculture and Forestry
Animal farming
• Large spaces where the animals can roam freely
• Fed with organically-produced feed
We are aware of the environmental impact of our actions. That is why we strive every day to protect the environment around us as per our values, with specific choices and innovative solutions even with regards to packaging. In particular, while we have always used packaging made from recycled and recyclable materials in order to make the recycling process easier for the consumer, in 2015 we started the Almaverde Bio Shop Islands project, offering a wide assortment of mainly loose organic fruit and vegetables within the fruit and vegetable aisles of hypermarkets and supermarkets. Part of the aim was to reduce the packaged range, the amount of waste and use of packing materials. In recent years we have also managed to develop innovative and sustainable packaging solutions, such as:
• 100% compostable bags for frozen vegetables certified by the OK Compost logo, made of bioplastic that can be thrown into the food waste bin;
 • we offer two packaging solutions for fresh fruit and vegetables: cellulose-based nets (for citrus fruits, potatoes and onions) and punnets made from plant-based materials, which are also entirely compostable, including the label; 
• Tetra Recart® packaging, made from renewable resources and 75% paper (a renewable raw material) which we use for chopped tomatoes and tomato sauce.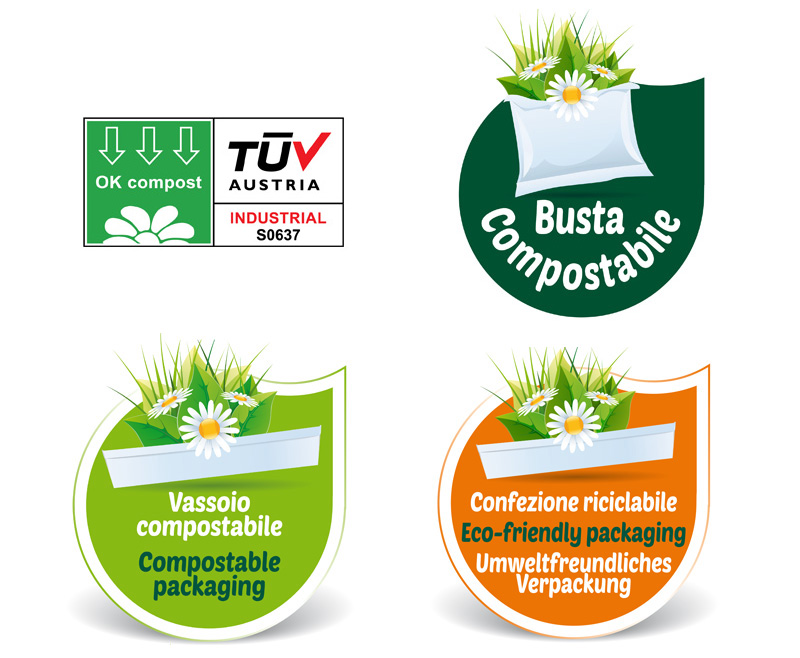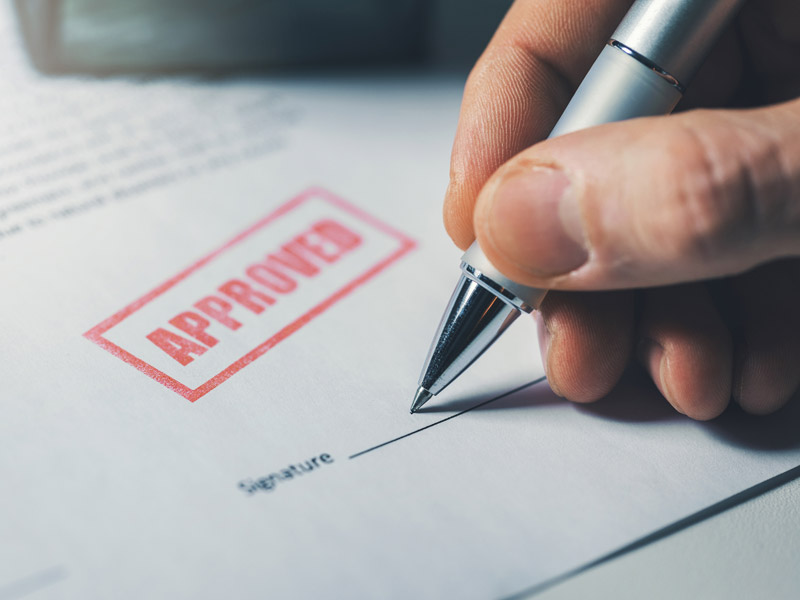 Checks and guarantees in accordance with legal requirements
We have always offered certified products which fully comply with current regulations:
• organic products have been regulated at European level since 1991, with the enactment of EC Regulation No. 2092/91, subsequently amended several times and supplemented to include, after the publication of EC Regulation No. 2092/91, aquaculture products;
• Today organic farming is governed by EC regulations 834/07 and 889/08 concerning the rules of production, labelling, the control system and importation from third countries;
• in Italy the control system was implemented through the issuance of Decree 220/95 which designates the Ministry of Agriculture and Forestry as the competent authority for approval and supervision of control bodies. This decree also establishes the requirements and the obligations of these bodies.
All organically farmed foods, regardless of where they are produced, come from certified companies that provide total traceability in the individual official records, which are presented upon each check and inspection. All Almaverde Bio products are certified by CCPB srl.
Checks and guarantees in accordance with legal requirements
Besides the checks and controls performed on the products, required by the laws on organic produce and executed by the supervising bodies, the Almaverde Bio companies provide a more in-depth quality assurance on their products.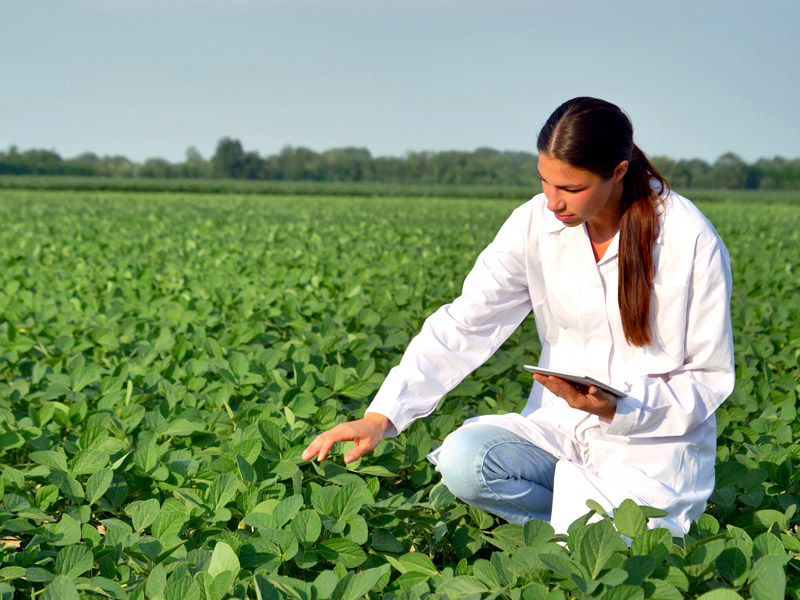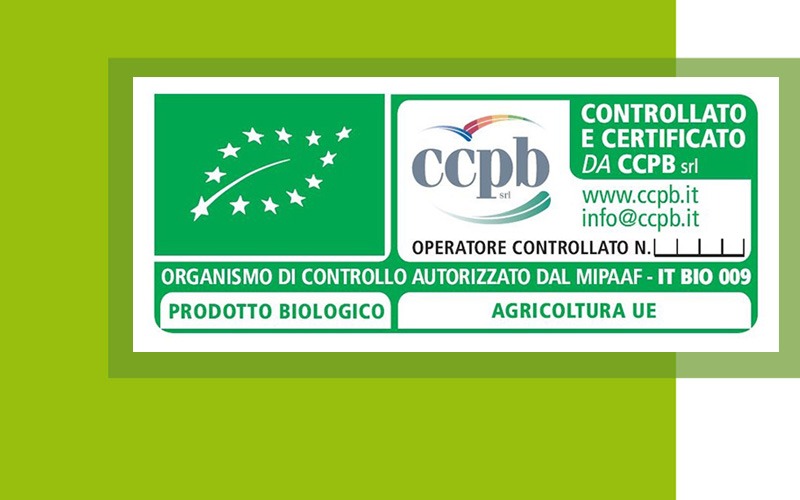 Learning to read the label is essential for recognising organic products. In addition to the product information (ingredients, weight, storage conditions, etc.), the law requires that organic products must also display other important, mandatory identification details on the label:
• the EU logo;
• the code number of the control authority; 
• the code assigned by the Italian Ministry of Agriculture and Forestry (MIPAAF);
• the words "organic product";
• the words "EU agriculture" or "NON-EU agriculture".
Discover the Almaberde Bio Companies