Eat well live better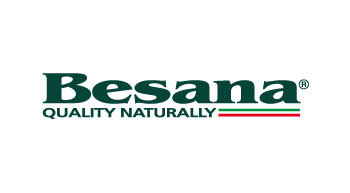 Besana is a licensee of the Almaverde Bio brand for the nuts and dried fruits sector. Since 1921, the Group has been one of the most important businesses in Europe for producing, processing and marketing nuts, dried fruit, seeds and chocolate.  Today, it boasts a number of factories, business offices, farms and plants in Italy and abroad. Armed with established relationships with major supermarket and GDO (Italian retail purchasing consortium) chains throughout Europe, and with key clients in the food industry, the Besana Group has a turnover of 190 million euros (of which approximately 85% is with foreign markets) and an annual production of over 25 thousand tonnes of products, resulting in about 120 million individual packaged items, packed on 35 packaging lines, and employs a total of about 600 highly qualified staff in Italy and abroad. Through cooperatives and producers' associations, Besana coordinates the production of about 2000 farms, overseeing the entire supply chain, from farm to fork.

With more than 25 years of experience in the organic sector, the Besana Group is one of the few companies in the industry in Europe to include a pasteurization system and autoclaves for CO2 fumigation. The analyses are performed in accredited laboratories, in order to ensure the highest quality and safety of its products. The Almaverde Bio brand has allowed Besana to consolidate a significant role in the processing and marketing of organic products, for consumers who are increasingly conscious of quality, health, the environment and the assurance of tested and certified products that don't compromise on taste. Love for their work, skills and respect for tradition have been and continue to be the key values that have distinguished Besana throughout its nearly 100 years of activity.